2020 Kentucky Derby
Each year, on the first Saturday of May, the city of Louisville, Kentucky, becomes the stage for one of the world's most prestigious sporting events — The Kentucky Derby. This "Run for the Roses" horse race is so exhilarating that it has been dubbed the "the most exciting two minutes in sports."
Ready to experience the 2020 Kentucky Derby in absolute and unforgettable style? You've come to the right place. From arrival to departure, Superior Executive Services can tailor a Kentucky Derby package to meet all of your individual needs. Contact us today to learn more.  
When Is The Kentucky Derby?
The 2020 Kentucky Derby will take place on May 2, 2020. The first race will begin at approximately 10:00 a.m., and the racetrack events won't end until around 7:30 p.m. after the winner is crowned and champagne is sprayed at the Kentucky Derby Winner's Circle.
---
2020 Derby Packages
1st Level Club House Package
From $5,000 per person
3rd Level Club House Package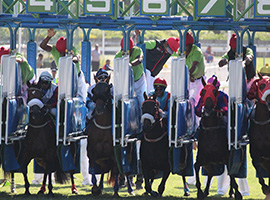 From $5,500 per person
All-Inclusive Dining Experience
From $8,900 per person
---

The Kentucky Derby Overview
Often called "the Run of the Roses" or "the most exciting two minutes in sports,"
the Kentucky Derby is without a doubt a must-see event — even for non-horse racing fans. From the mint juleps to the flamboyant hats to the high stakes, the Derby is a once-in-a-lifetime experience.  Below are just a few of the reasons why the Derby is one of the most sought-after events.
History
The Kentucky Derby is the longest running sporting event in the United States. The first race took place in 1875 when Meriwether Lewis Clark — the grandson of the famed William Clark from the Lewis and Clark expedition — got the Louisville Jockey Club to come together for a horse race. Unlike today's derby, which draws in over 170,000 spectators and over 16 million television viewers, the very first derby drew in just 10,000 spectators, which was still quite a crowd for those days. Since this initial running, the event has taken on a number of changes. Read about some of these changes here.
Traditions
The Kentucky Derby is not only Louisville's most iconic event, but it is also one of America's most historic and popular sporting events. It's an event that transcends sports. It's a celebration of southern culture and an icon of America. Given this significance, it may come as no surprise that the race has a number of traditions. The most popular of which include the donning of elaborate hats, the drinking of mint juleps, the awarding of the garland of roses, the playing of "My Old Kentucky Home," and much, much more. Learn more about Kentucky Derby traditions here.
Stakes
What would a horse race be without bets? We don't know and don't want to find out. For those who love wagering bets on horses, the Kentucky Derby is a dream event. Whether you want to place a single bet, a trifecta bet, or bet the farm, the Derby has plenty of opportunities for those eager to test their luck. In fact, each year, the race brings in over $100 million dollars in bets. With all of this money flying around, it's no wonder the Derby has such a high-stakes atmosphere. The nearly endless parade of celebrities funneling into Churchill Downs only adds to this atmosphere. Whether you want to purchase $15,000 mansion seats and sip on a $1,000 mint julep (don't worry; the proceeds go to charity.) or simply cheer on your horse from the infield, you're sure to experience the electric, high-stakes atmosphere of the Derby.  
Superior Kentucky Derby Packages
Superior Executive Services provides custom sports travel packages to the 2020 Kentucky Derby. When you partner with us to help plan your Kentucky Derby 2020 trip, we guarantee a superior experience. How is this possible? Simple. We leverage our professionalism, dedication, drive, willingness, and industry experience to make your event a success. Whether you are a business owner trying to seal the deal with a new business partner, or you simply want to treat your lucky friends to an unforgettable experience, our team of event specialists goes above and beyond to plan and execute your five-star trip.
What To Expect
Our team of event specialists understands the importance of building client relationships through corporate hospitality and entertainment. When you partner with us, we guarantee individual attention. From pre-trip planning to the day-of-the-event execution, our team will ensure you and your guests have a superior Derby experience.  Every detail of our Derby packages has been handpicked with the goal of creating a superior time for you and your guests.
Accommodation
Transportation
Entertainment
Hospitality

A Superior Experience
Superior Accommodations
During the Derby, the city of Louisville transforms. With so many people in town, finding a convenient and luxurious place to stay can be difficult. When you book your Kentucky Derby 2020 trip with us, we leverage our partnerships to help you secure superior accommodation. Among our list of partners is the Brown Hotel in downtown Louisville, which is perhaps the most glamorous and popular spot to stay for the Derby. During your stay, you can expect to see some notable celebrities and socialites. We also offer rooms at the Embassy Suites, Galt House Hotel, and other premium places around town.
Superior Transportation
When we say we take care of our guests from arrival to departure, we mean it. When you partner with us to plan your Derby trip, we include transportation as part of your package. This means that we will provide roundtrip transportation from your hotel and Churchill Downs. On top of this, as a luxury travel agency, we also offer our guests the opportunity to book private air flights. Learn more about our private chartered flights and how flying on a private jet is the epitome of luxury.
Superior Entertainment
All of our sports travel packages are tailored to guarantee a truly outstanding experience. Not only will we secure your seats in Churchill Downs for Derby Day and Kentucky Oaks, but we will also help to facilitate superior outside entertainment for you and your guests. During the Derby, the city comes alive, presenting you with a variety of fun festivities and parties rich with tradition and drinks — after all, Louisville is in the heart of Bourbon Country. We can arrange for you to attend all the city's hottest Derby events.
Superior Hospitality
We take tremendous pride in our hospitality. We believe that if you are going to experience a world-class sporting event, like the Kentucky Derby, shouldn't it be in style? To give you the type of hospitality that matches the prestige of the Derby, our team will painstakingly customize your itinerary and provide superior hospitality throughout the trip.
Ready to make your clients' heads spin with a trip to the 2020 Kentucky Derby? Contact Superior Executive Services to learn more about our corporate event planning.
Superior Executive Services — Who We Are
Professional
Dedicated
Experienced
Committed To You
We are experts in corporate entertainment, corporate hospitality, and sports travel packages. For the past decade, our team of experienced planners and sports hospitality professionals have helped curate unrivaled corporate packages to some of the world's most renowned sporting events.
Our Values
As a luxury travel agency specializing in corporate hospitality and sports travel packages, we have earned a reputation for providing superior trips. What has made this possible is our unwavering commitment to our core values. Below are some of our guiding principles:
Professionalism — regardless of the situations, we demand absolute professionalism.
Experience — we know the sports hospitality industry like the back of our hand, and we use this deep understanding to make your trip a success.
Dedication — from the first time we speak to when we depart, we are relentlessly committed to providing a superior trip for you and your guests.
Drive — 100 percent satisfaction is our goal. We are tirelessly committed to accomplishing this goal.
Willingness — we don't simply accommodate your needs. Our all-inclusive Kentucky Derby packages are built around your goals.
Hospitality — we are passionate about providing above-and-beyond hospitality. It's what we do.
2020 Kentucky Derby FAQ
What happens if there is inclement weather?
Rain or shine, the Kentucky Derby and Kentucky Oaks will go on as planned. Lightning is about the only thing that could delay the race.
Is there a dress code?
Yes, you have to wear the biggest, most flamboyant hat you can find — kidding. Most areas don't have a dress code. However, some rooms, like The Derby Rooms, have a business-casual dress code.
How do I place a bet?
To learn about how to place a bet at the Derby, check out our Kentucky Derby Betting Guide—Pt. 1 and Kentucky Derby Betting Guide—Pt. 2.
Do I need cash to place a bet?
Yes, cash is king at the Derby. Parking, drinking, food, betting, all require cash. The Churchill Downs facility does have ATMs, but be advised that these lines can be long and money can deplete quickly.
How do I say Louisville?
Good question! The most popular pronunciation is "Loo-a-vull." We know — it feels weird. But it's their city and their name, and trying to pronounce it correctly will signal respect and help you win-over some locals.  
Where can I buy Kentucky Derby tickets?
Superior Executive Services offers a number of Kentucky Derby 2020 packages, which include tickets, accommodation, transportation, and superior hospitality.
Have more questions? Check out the official Derby FAQ page, and contact us today at 833-403-0713 to learn more about your trip to the 2020 Kentucky Derby.
A Look Back at The 2019 Kentucky Derby
On May 4th, 2019, the 145th Kentucky Derby commenced with Baker Mayfield, the Cleveland Browns star quarterback, giving the "Ryders Up," and it quickly became one of the most memorable Derby days  in history. Fans cheered as Maximum Security crossed the finish line in first place, but were shocked to find that, after a 22-minute review, Country House was proclaimed the victor by disqualification. It was determined that Maximum Security had veered out of lane two, impeding War of Will, Long Range Toddy, and Bodexpress. For the first time in Derby history, the first-place horse was disqualified for an on-track infraction, giving the win to underdog Country House.